Friday, 07 December 2012 7.30pm
Kalinka Balalaika Orchestra
Brian Hulme director
Laura Mayo conductor
Manchester's own Kalinka Balalaika Orchestra and guests evoke the contrasting moods of the Russian soul performing a selection of arrangements of traditional melodies and pieces by Russian composers. Join us to mark the 50th Anniversary of the ties of friendship between Manchester and St Petersburg with this unique symbol of those links. All funds raised go to assist homeless children in St Petersburg.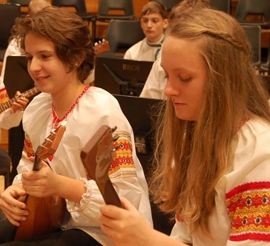 Promoted by ROOF St. Petersburg Charity
Venue RNCM Concert Hall
Tickets £5.00 Concessions £3.50 Senior.student,Child,Claimant
Royal Northern College of Music
Box Office 124 Oxford Road
Manchester
M13 9RD
0161
Box.office@rncm.ac.uk
A booking fee of £1 per ticket applies to most transactions
No booking fee applies to tickets bought at the Box Office using cash or a debit card.
THE RUSSIAN ARCTIC CONVOY MUSEUM
THE ONE SHOW 7.00 pm BBC 1 THURSDAY 6 SEPTEMBER
Will include a report on the newly formed RUSSIAN CONVOY MUSEUM at Aultbea Western Ross , Loch Ewe
was where many of the WW2 Arctic Convoys left for Russia
Described by Winson Churchill as 'The Worst Journey in the World'
Over 3,000 men lost their lives in arctic Waters between Scotland and Russia
www.russianarcticconvoymuseum.co.uk
info@russianarcticconvoymuseum.co.uk